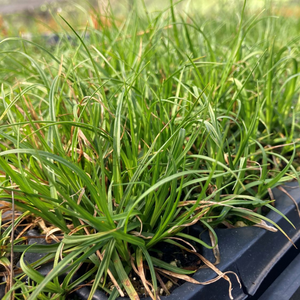 Carex tumulicola
This native sedge, with rounded grass-like foliage, has become a popular component of modern native landscapes due to its versatility and manageable size. It's evergreen, drought-tolerant and looks great just about anywhere you plant it, in every season. 
Plant type/canopy layer:

evergreen perennial sedge

, herb/ground layer

Size at maturity:

8" tall, 18" wide

Light requirements:

full sun, part sun/part shade

Moisture requirements:

dry to moist soil

Bloom time:

n/a

Growth rate/ease:

moderate growth rate, easy to grow

Wildlife support:

unknown

Native habitat/range:

Grasslands, oak savanna, dry slopes, and openings in forest up to 800 meters; west of the Cascades from northern California to British Columbia.

Portland Plant List - yes. 

Special features & uses:

drought tolerant
Gardening with Foothill Sedge: Perhaps the best thing about Foothill Sedge is that it's one of the least-fussy plants out there when it comes to light exposure, acidity, moisture, soil consistency or nutrient density and its simple grass-like form mixes well with other plants. Plant it under a tree or right out in the open and it will give your perennial gardens and pollinator meadows year-round structure. 
Photo Credit 1: Seven Oaks Native Nursery