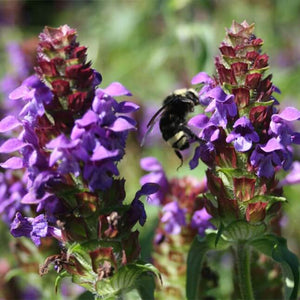 Prunella vulgaris var. lanceolata
If you love bumblebees, you'll love self-heal. This charming meadow species is both hardy and adaptable. It grows quickly, persists for many years, and is compact so it can be easily squeezed into small spaces where low growing plants are desired. It is highly attractive to many native bees, especially bumblebees. True to its name, it is widely recognized as a powerful and versatile plant medicine. 
Plant type/canopy layer:

deciduous perennial herbaceous plant

Size at maturity:

12"-18" tall, 6"-12" wide

Light requirements:

full sun to part shade

Moisture requirements:

dry to moist soil

Bloom time:

 May - September (May - July in the Portland Metro area)

Growth rate/ease: fast growing, 

easy to grow

Wildlife support:

flowers are a nectar source for adult butterflies, native bees (especially bumblebees) and other insect pollinators; plant attracts and supports beneficial and other pest eating insects

Native habitat/range:

Grows in disturbed soils such as pasturelands and roadsides, as well as moist edges of forests. Prunella vulgaris is circumboreal, meaning different subspecies and varieties are common throughout boreal regions of North America and Eurasia. 

Portland Plant List - yes.
Special features & uses:

groundcover; medicinal; great in meadowscapes, eco-lawns and other areas where you want pollinator-friendly vegetation with less height
Gardening with Self Heal: Self-heal is a resilient groundcover that will flourish in a variety of light and moisture conditions. It's often found in eco-lawn seed mixes, due to its low growing stature. It will also tolerate being stepped on as well as mowed, though we recommend mowing infrequently while it's flowering as to not eliminate its pollinator value. 
Seed Packet Contains: approximately 300 seeds

Seed Sowing instructions: Sowing in fall or early spring is ideal, to take advantage of winter rains. Stratification is not needed, so late spring or summer sowing is possible, if supplemental water is provided throughout the first summer. Broadcast seeds on prepared, weed-free soil approx 60 seeds/sq ft or a small "pinch" per small pot. Either leave on the surface or gently rake in very shallowly. Often requires one year of growth before it blooms.

Photo Credit: Willamette Wildlings