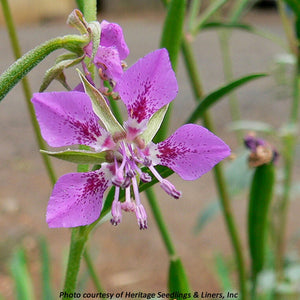 Clarkia rhomboidea
Diamond clarkia (aka forest clarkia or common clarkia) is an annual wildflower that is a special treat when intermixed in pollinator gardens and meadowscapes. It will emerge in spring, sending a dainty stem 1-3ft high, with sparse foliage. By early summer, you'll fall in love with its breathtaking, bright-pink flowers composed of four diamond-shaped petals, often speckled with darker pink shades, and large anthers bearing striking blue-gray pollen. 
Plant type/canopy layer:

deciduous, annual, herbaceous plant

Size at maturity:

1-3' tall 

Light requirements:

 full sun to part shade

Moisture requirements:

moist to dry soil

Bloom time:

May - August

Growth rate/ease:

fast growing, easy to grow

Wildlife support: flowers attract and support adult butterflies and large numbers of native bees; overall plant is host for several species of native butterfly and moth larva including the incredible and giant Gallium Sphinx Moth (

Hyles gallii

).

Native habitat/range:

 locally common in east and west-side forests of the Cascades, shrub-steppe, oak savanna, and disturbed sites (like post-burn) from British Columbia to California. At the north end of its range, it is found primarily in the Cascades, while in Oregon and California it extends from the Cascades to the coast. Portland Plant List - yes.

Special features & uses:

 indigenous peoples traditionally sow clarkia

 species and harvest the seeds to grind for food
Gardening with Diamond Clarkia: This a great plant for sunny to partly shady areas with medium to dry soils. Dainty and delicate with sparse foliage, diamond clarkia should find home butterfly/bee gardens, rock gardens, and meadowscapes where its exceptional flower can steal the show for a few weeks before the plant begins to die back entirely. Since it particularly thrives in disturbed sites, it has excellent potential in urban applications like new development with poor soils and parking strips.
Seed Sowing Instructions: Can be fall or spring sown since it requires only short stratification, if any. If spring sowing, cool temperatures may enhance germination so plant seed as early as possible. Spring sown plants may be smaller in stature than fall sown when they bloom. Broadcast seeding or sowing in situ vs. pots tends to produce sturdier, more robust plants.
Seeding rate: broadcast seeds approx 60 seeds/sq ft, a tiny pinch per small pot, or a tiny pinch per pots (in situ)
Planting depth: surface – do not cover
Each seed packet contains 

approx 325 seeds
Photo Credits: Heritage Seedlings & Liners, Inc